Did you know? You can undoubtedly increase the speed of Internet Download Manager from the regular 5x to a staggering 8x!
IDM is the best available download manager on the Internet today.
In terms of features, it beats any download manager, hands down.
Below, we have listed several nifty tips and tricks of Internet Download Manager to make your downloading experience more fun.
Did You Know? Did you know that over 1.5 billion websites exist on the Internet, but only about 200 million are active?
Exclusive IDM Tips & Tricks for Super-Speed Downloading!
1. Speed up Internet Download Manager by 3x more times.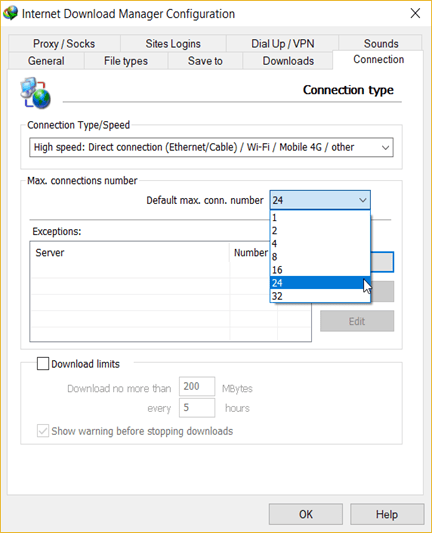 By default, IDM doesn't utilize the complete bandwidth available on your Internet connection.
To correct this and speed it up, go to Downloads -> Options -> Connection.
Here, click on the drop-down menu under the Connection Type/Speed and choose 'High Speed: Direct connection (Ethernet/Cable) / Wi-Fi / Mobile 4G / other'.
Next, in the drop-down box to the right of Default max. conn. number, choose 24 and click 'OK' to save your connection settings.
This will enable IDM to create 24 simultaneous connections as compared to 8 by default and hence boost the download acceleration.
2. Change the look and feel of IDM to modern.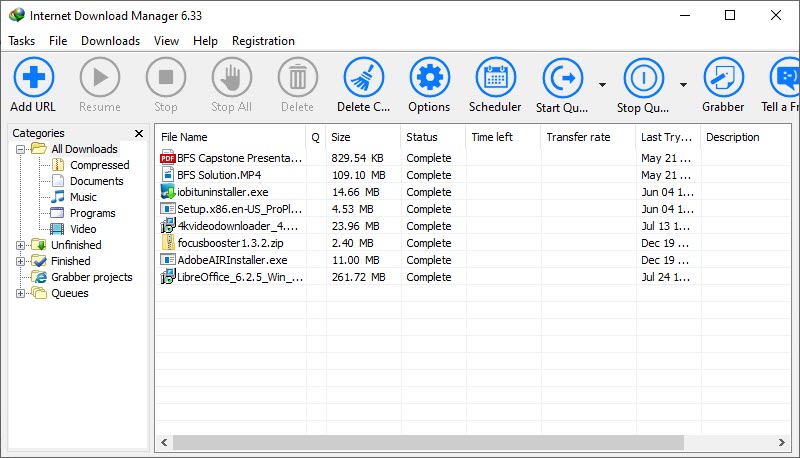 IDM is probably not the best looking download manager in the market. The user interface feels outdated.
However, you can easily give it a modern look. Go to View -> Toolbar -> Look for new toolbars.
This option will redirect you to their web page consisting of all the available Toolbar skins.
Follow the instructions below to apply the skin you like:

Download the skin pack zip file.
Navigate to the IDM installation location. By default, it is C:\Program Files\Internet Download Manager, and if you are using 64 Bit Windows, it should be C:\Program Files (x86)\Internet Download Manager.
Once you are in the location above, search for the folder called Toolbar. Here, extract the contents of the downloaded zip file.
Restart IDM. Navigate to View -> Toolbar -> Look for new toolbars. This time you will see the new Toolbar skin name on the list. Just select it, and the interface changes immediately.
3. Just drag & drop links to IDM. Or, all it needs is just a click!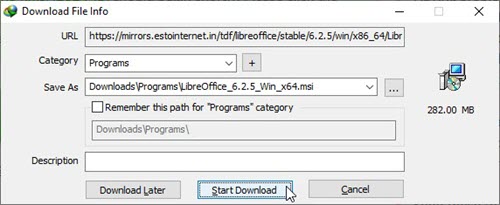 When you drag & drop/click on any download link in a browser, IDM will immediately take over the download.
You will have to do nothing at all and continue browsing the Internet as you usually do.
IDM will then accelerate your download by dividing the file into multiple pieces and then downloading each chunk simultaneously.
It supports various Internet protocols like HTTP, FTP, HTTPS, and MMS.
4. Easily download from premium file hosting websites.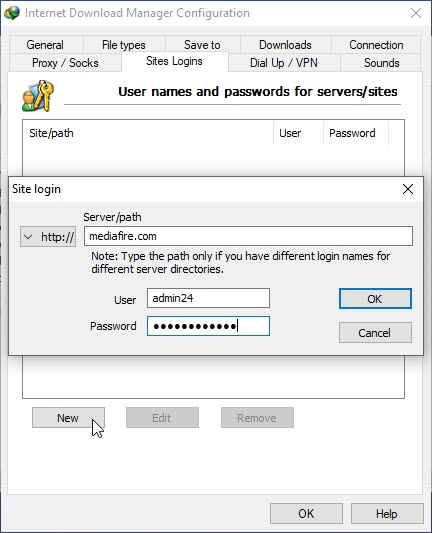 IDM allows you to comfortably download files from premium hosting sites to which you have subscriptions or exclusive access.
Click Downloads -> Options -> Sites Logins. Here, click on 'New' and add the site address and your credentials.
You can add any site that requires your login details for file download.
5. IDM supports all popular Internet browsers. You can also add new browsers to it.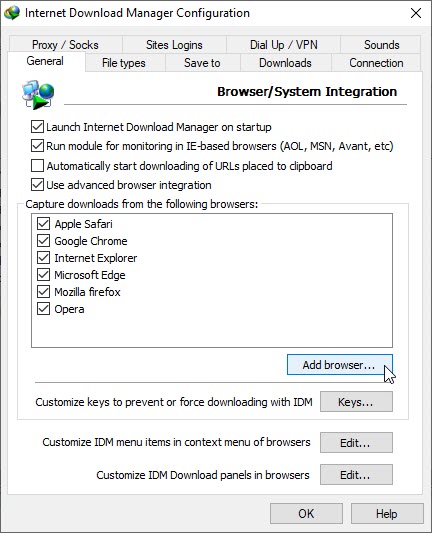 Internet Download Manager supports all popular browsers, including Google Chrome, Mozilla Firefox, Opera, Microsoft Edge, IE, and others.
You can also add new browsers to it. Click Downloads -> Options -> General. Here, click on the 'Add browser…' option and choose the browser to be added.
Please note that IDM can be integrated into any Internet application to take over downloads using its unique Advanced Browser Integration feature.
6. Automate downloads on IDM using Scheduler. Auto Shutdown after downloads complete.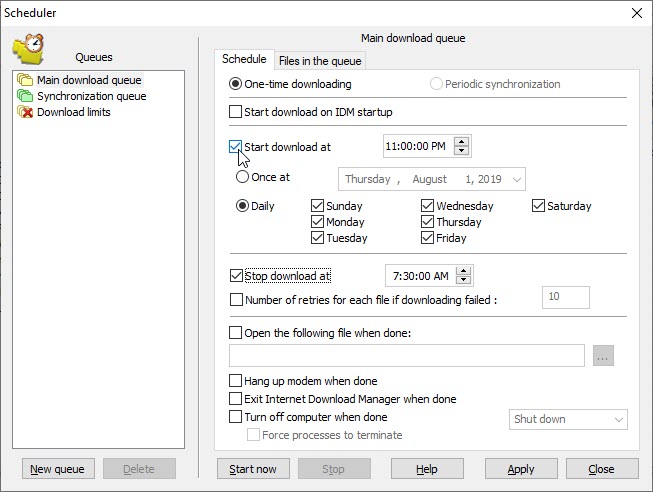 The scheduler makes Internet Download Manager all the more interesting.
It allows you to create file queues which can be downloaded at specific time intervals of your choice.
Further, IDM can automatically disconnect the internet or shut down your PC once it finishes downloading the files in the queue.
This feature is also helpful if you want to download after your working hours so that it doesn't affect your browsing speed.
IDM also has a smart synchronization queue. It checks if the files in the queue have been changed on the downloaded server, and if changed, it will download new files and replace old ones with new ones.
To open the scheduler dialog window, go to Downloads -> Scheduler. Here, you can set time rules for the downloads, create queues, set the number of simultaneous downloads, and more.
7. Customize IDM Download panel in browsers.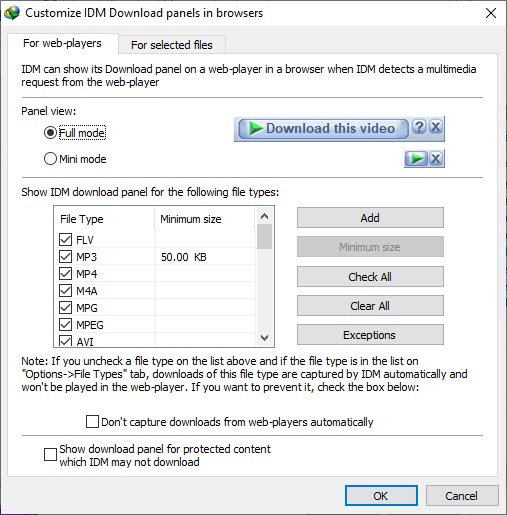 Internet Download Manager displays a download panel in the browser when it detects a multimedia file that can be downloaded.
Has the option to choose between the Full mode or Mini mode of the Download panel to be displayed.
You can choose the type of multimedia files for which the Download panel be displayed.
You also have the option to not capture the downloads from the web-player and thus not display the Download panel at all.
8. You can promptly resume broken downloads.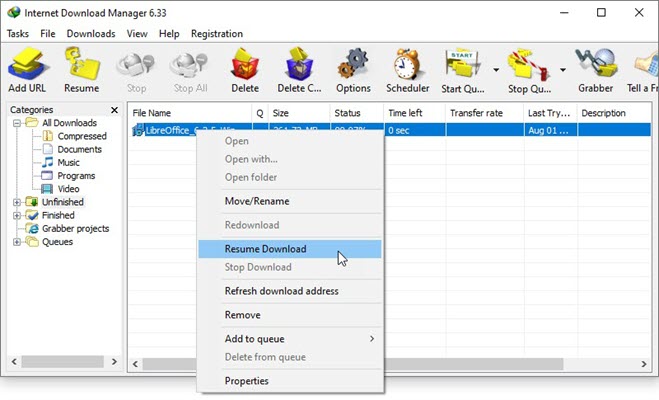 At times, the downloads get interrupted due to lost connections, network problems, computer shutdowns, or unexpected power outages.
Internet Download Manager can resume such an unfinished download from the place where it was left off.
If the resuming fails, you can attempt to do it by right-clicking on the download and choosing 'Refresh Download Address'.
9. Can scan downloaded files for viruses or malware.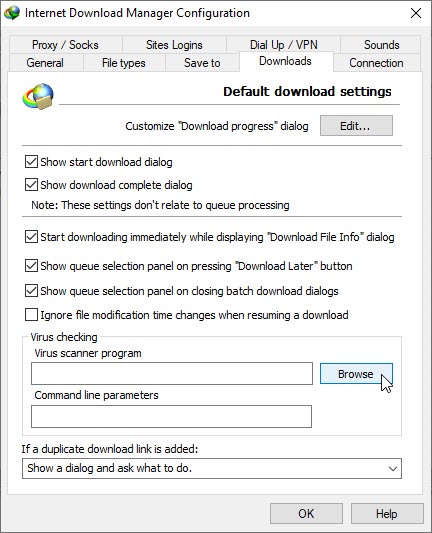 Internet Download Manager can automatically initiate a scan of the downloaded files with the Antivirus program installed on your PC.
In fact, this is the safest way to handle external files from the web and ensure that your system remains safe from all forms of threats.
Navigate to Downloads -> Options -> Downloads. Here, under the 'virus scanner program', click on 'Browse' and select the .exe file of your antivirus application.
10. Download anything from any site!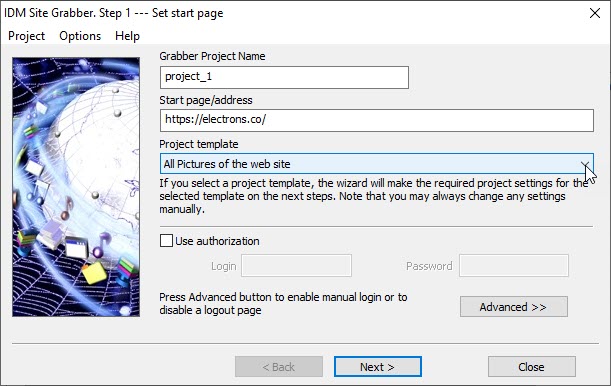 IDM has a Grabber function that can download any/all content of a website quickly.
The grabber is an easy to use stepwise wizard that determines what files to download and from where.
You can download all the pictures, or all audio files, or all videos from any given website.
It also lets you download subsets of websites or the complete website itself for offline browsing.
Click on Tasks -> Run site grabber. Name your project, enter the website URL under 'Start page/address', and select a 'Project template'.
On clicking 'Next', the further steps let you select how deep you want to gather data and deselect any element that you do not want.
11. Readily prevent downloads from specific websites.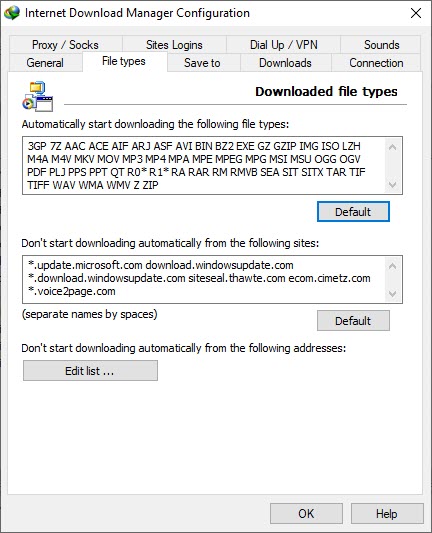 IDM usually overtakes download when you click on any download link in the browser.
This might be a problem when you are trying to download from a website that does not allow download managers.
To stop IDM from intercepting downloads from such sites, you can hold the ALT key and click on the link to let your browser download the file.
By default, it is the ALT key. However, if you wish to change it, navigate to Downloads -> Options -> General, here search for 'Customize keys to prevent or force downloading with IDM' and click on 'Keys …'.
Adding certain websites to the exception list is another option to stop IDM from intercepting downloads. Go to Downloads -> Options -> File Types. Here, under 'Don't start downloading automatically from the following addresses:' add sites to the exception list.
12. Not only manage your downloads but organize them as well.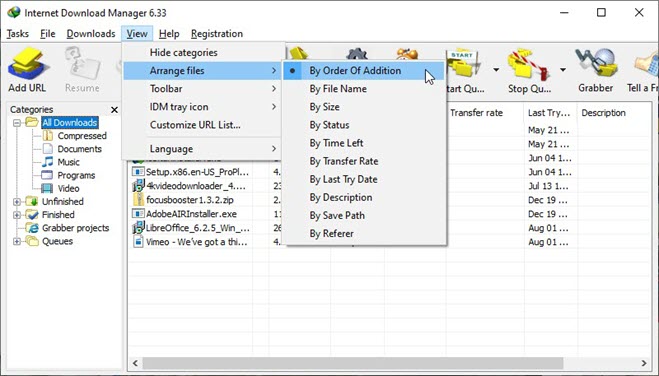 Internet Download Manager can be used to organize downloads automatically using defined download categories.
There are different categories, like Documents, Music, Video, Programs, etc. You can manually add more categories.
It is also easy to know about Finished and Unfinished downloads.
You can sort and arrange downloaded files by the criteria of your choice. Go to View -> Arrange files.
Searching downloaded files is easy too. All you need to do is just press CTRL + F.
13. Configure IDM to use a Proxy/VPN service.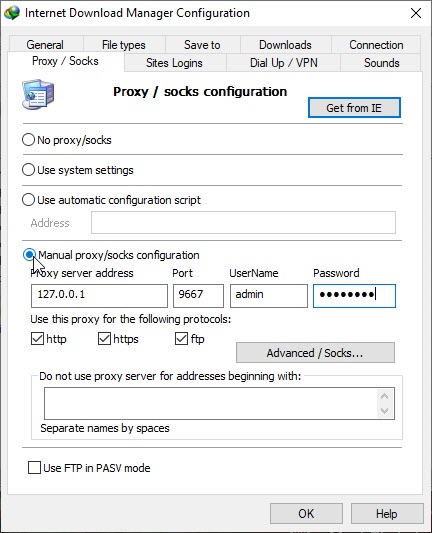 Configuring IDM to use a proxy connection allows it to download files from locations that are blocked by your Internet Service Provider.
Navigate to Downloads -> Options -> Proxy / Socks and fill up the details under 'Manual proxy /socks configuration' to start using this feature.
IDM supports many types of proxy servers. Using a proxy is also very beneficial when you want to mask your location's identity.
14. Select which file types you want IDM to download.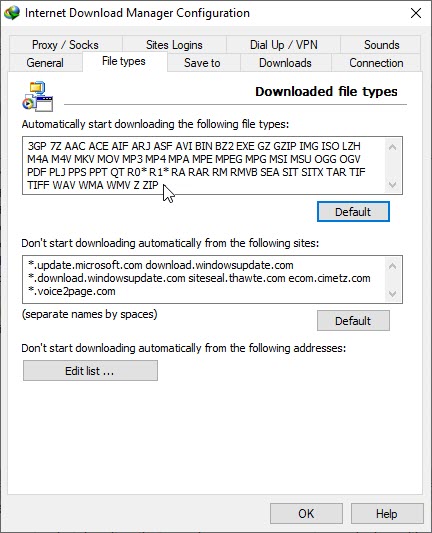 Navigate to Downloads -> Options -> File types. Here, you can add/delete file types that will be intercepted from the browser and downloaded by IDM.
Feel free to add many file types like DOCX, XLSX, APK, IPA, and others that you want IDM to automatically take over from the browser and download.
15. Automatically download copied links from the browser.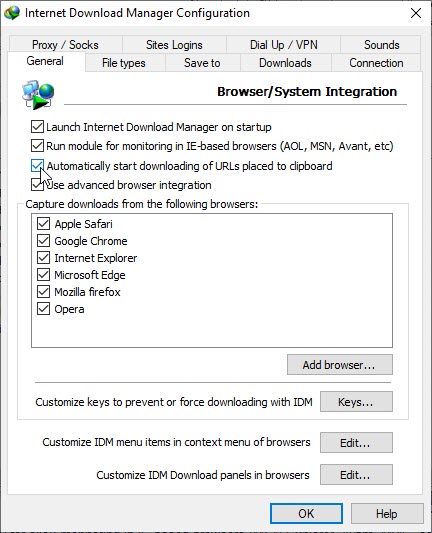 IDM can intercept any link you copy from the browser immediately. Well, doing so is convenient as it saves you time.
Go to Downloads -> Options -> General. Here, check the option 'Automatically start downloading of URLs placed in clipboard'.
You can manually add download links too. Just click on the 'Add URL' button on the top-left side of the window, copy the link into the field and click OK.
16. You can even limit the download speed.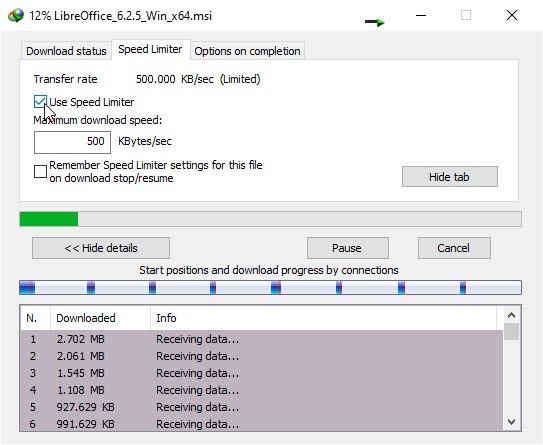 If you are browsing the Internet while IDM is downloading files for you, it is natural to get a slower browsing speed.
In such a scenario, you need not stop the download entirely. Instead, restrict the IDM's download speed.
To do so, open the progress window of the file being downloaded, click on the Speed Limiter tab and check 'Use Speed Limiter'. Under 'Maximum download speed', enter the download speed of your choice.
Alternatively, you can also limit speed via Downloads -> Speed Limiter -> Settings.
17. Internet Download Manager is available in several languages.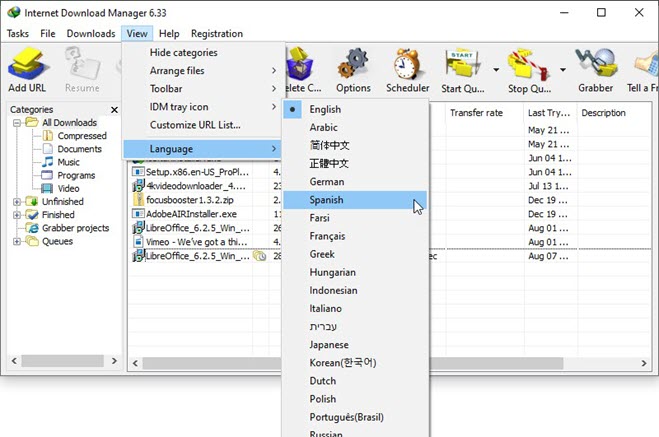 You can use IDM in 25+ diverse languages. Feel comfortable to use the language of your choice.
Languages previously available are Arabic, Chinese, French, German, Greek, Hebrew, Italian, Japanese, Korean, Polish, Portuguese, Romanian, Russian, Spanish, Thai, Turkish, and Uzbek.
More languages recently added include Albanian, Azerbaijan, Bosnian, Bulgarian, Croatian, Czech, Danish, Dutch, Farsi, Hungarian, Lithuanian, Macedonian, Norwegian, Serbian, Slovak, and Slovenian.
One can also translate IDM to their native language.
18. Batch download files with ease.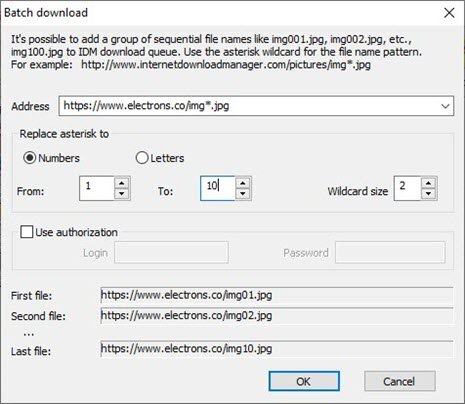 IDM allows you to swiftly download a list of files that have similar file names (for example: img001, img002, img003, and likewise).
Go to Tasks -> Add batch download. Here, enter the URL in the Address field.
Wisely replace the name/numbers with an asterisk (*) wildcard character, and you will be able to queue downloads.
It is also easy to import links from a text file. Go to Tasks -> Import -> From text file.
19. IDM can play different sounds for different download events.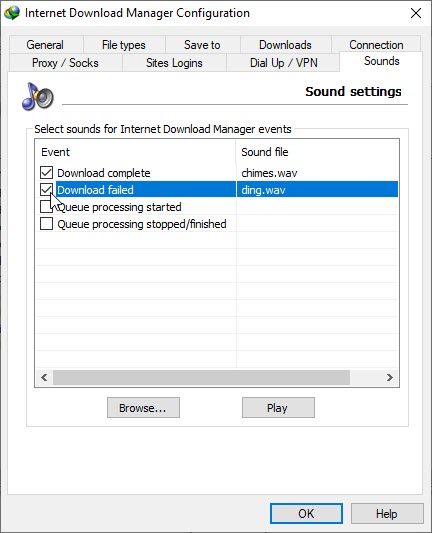 Go to Downloads -> Options -> Sounds.
Check the box of the event for which you want to set sound. A new window pops up. Here, navigate to the sound file of your choice, and select it.
By default, Windows built-in sound files can be found at C:\Windows\Media .
20. You can control how IDM dialogs are displayed.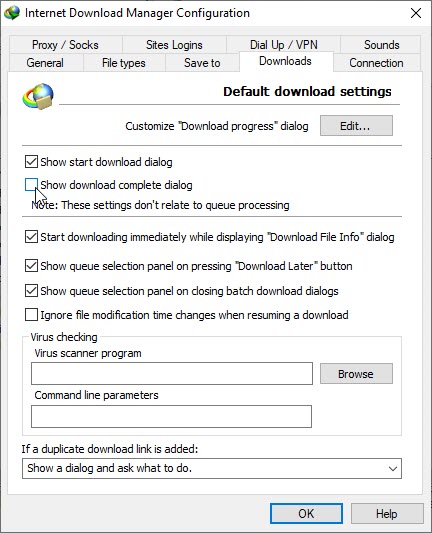 Go to Downloads -> Options -> Downloads. Here, you can customize the 'Download progress' dialog window.
If you feel the Downloads complete dialog that pops up at the end of all file downloads to be annoying, you may even disable it. Just uncheck 'Show download complete dialog'.
Internet Download Manager starts to download a file while showing the 'Download File Info' dialog. Thus while you are thinking about where to place a file after downloading on the 'Download File Info' dialog, the file may be downloaded partially or entirely.
IDM Can Do More…
There is a lot more that can be tweaked specifically to one's usage habits. Feel free to explore IDM features leisurely.
If you don't understand something while using IDM, just try to press the F1 key, and the context sensitive help will appear.
Have some more IDM tips and tricks? Share it with the world via the comments below.

Did You Know?
Did you know that approximately 277 billion emails are sent each day, but over 80% of these are just spam?