Making the last-minute friend to sit somewhere else in the theater, away from the gang, used to pinch us a little bit. But, not anymore!
There's something about watching movies on a big screen!
Sitting in a dark theater, staring at the massive screen, you get pulled into sound and color in a way that you don't feel when watching movies at home.
Friends make movie watching all the more fun. In this quick post, let's look at some smart movie ticket booking tricks that you can make use of!
That Irritating Friend..
Finally, after months of waiting, that movie, which you were dying to watch has released.
There is great euphoria and excitement all around.
It was already pre-decided to watch the movie, you and your gang of friends can't wait anymore!
You open your favourite online movie ticketing site to book tickets, that's when you receive a text from a friend – "Hi.. Don't book the tickets for me yet. I am not sure if I can make it."
Ah oh.. At that moment in time, all you feel is like: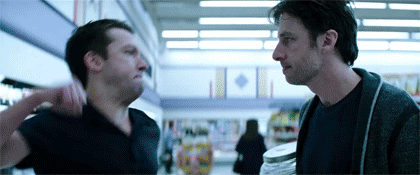 Well, this little tip here today will help you handle such situations.
Now get a seat next to you, even to your last-minute friend!
Booking Movie Tickets When Not Sure If A Friend Will Make It!
Let's say you're booking tickets for 5 friends.
But, you are not sure about one of them. He/she may turn up or may not!
However, with this simple life hack, even if he/she joins you at the last minute, all of you can still enjoy the movie sitting together.
When you're booking tickets,
Instead of Selecting the Seats this way: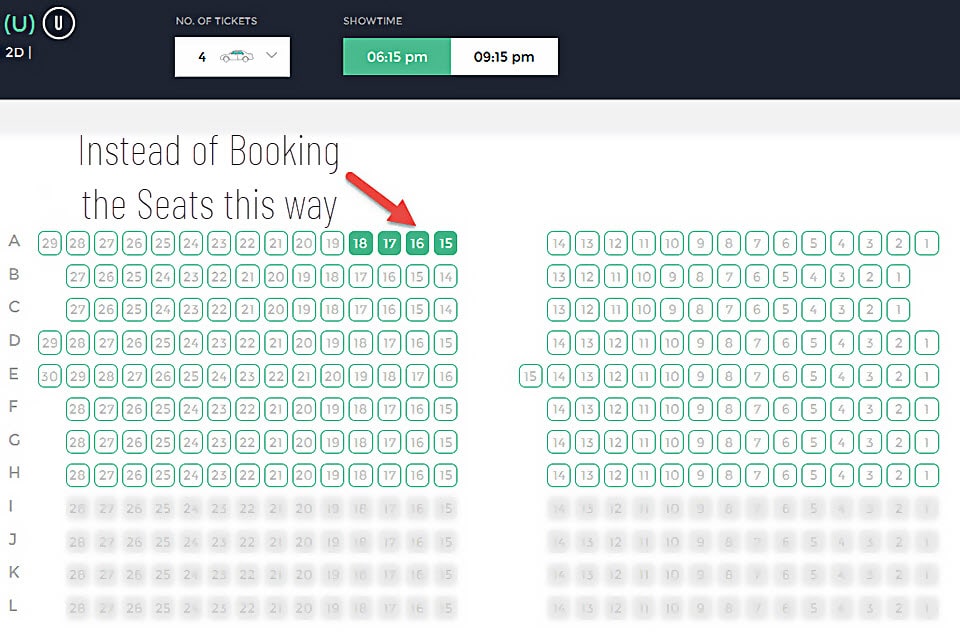 Select them this way: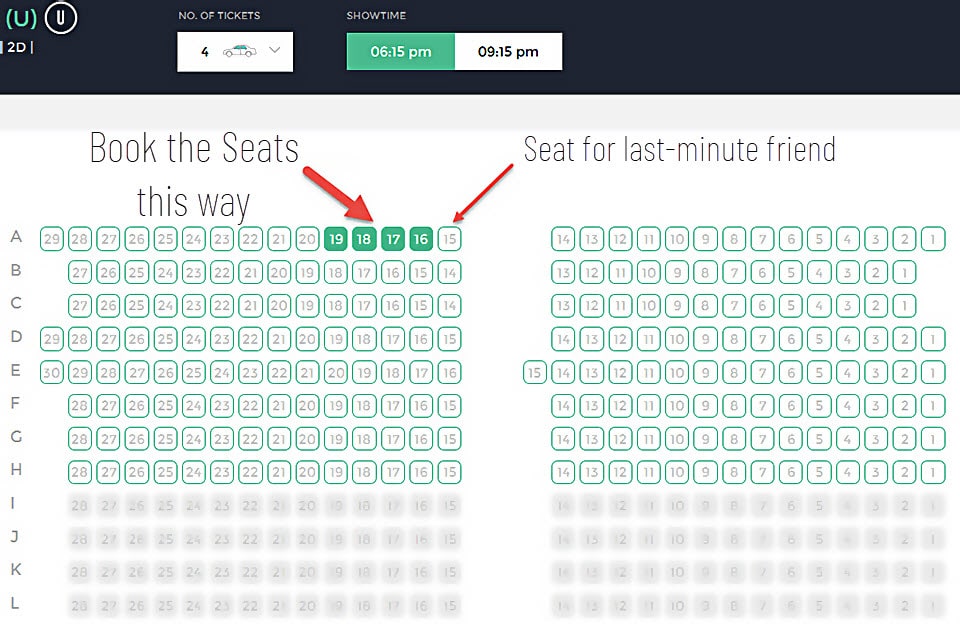 Or, even this way: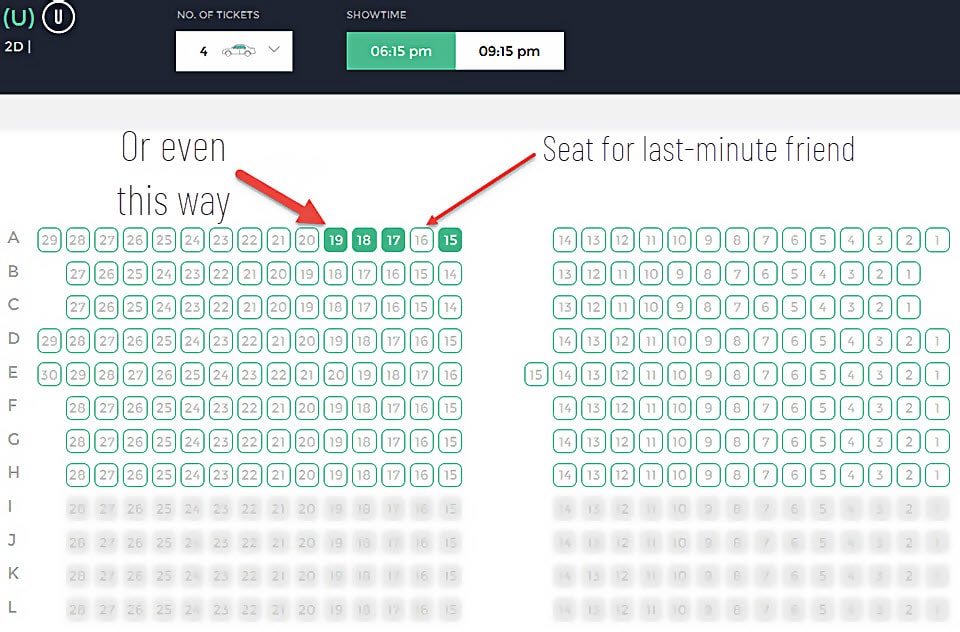 Remember, 90% of the moviegoers don't watch the movie alone. And hence, there is a very good chance of that single-seat not getting booked.
So, if your friend is joining you in the end minute, hopefully, you can select that unbooked single-seat and watch the movie together.
NOTE:
Some movie ticketing sites allow you to select only continuous seats. However, it is possible to select the seats in the manner seen in the images above. You just need to play a bit with the seating.
For example, choose the last seat first, and then choose the remaining 3 seats as seen in the image here.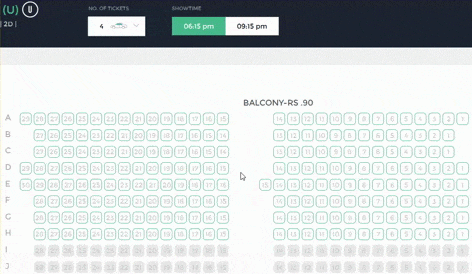 You can do it in many ways. This is just one of them.
More Movie Ticket Booking Tips
1. Attend a Free Screening: Many movie production companies set up free screenings of their movies before they're officially in theatres, as a means of building hype. They're hoping you'll talk the movie up on Facebook, Instagram and Twitter afterwards. Register with a couple of free screening websites to receive alerts when free tickets are up for grabs. Just Google for such services in your region.
2. Use Cards: Many banks and their respective credit/debit cards offer good discounts for movie-goers. You get deals like Buy 1 Get 1 Ticket free, up to 50% discount, 5% cashback and more. The same is true with some digital wallets like Google Pay and others. Your Credit Card Rewards can also be cashed in for getting free movie tickets.
3. Make Use of Coupon Websites: Just like you can find coupons for retail stores, you can also use coupon websites and apps to find deals for movie theaters. Deals could include offers such as a dollar amount off, percentage off or a free concession with purchase.
4. Loyalty Programs: Some movie theaters, especially those associated with chains, offer customer loyalty programs that reward you for your patronage. Check with your local theater to see the cost of a membership, then do some quick calculations to figure out how many movies you would have to see each year to make up the cost of joining.
5. Student and Senior Discounts: If you're in school, in the military or you've reached senior citizen status, be sure to flash your ID, so you get your discount. These discounts typically apply only on certain days, for specific showtimes or at certain theaters, so plan your visit accordingly.
6. Weekdays & Morning Shows: Have a flexible schedule? Then consider going to the cinema during the week for an additional discount. Usually, the ticket prices are low on Monday, Tuesday and Wednesday. Also, catching morning shows will further save you a lot of money. Ticket prices tend to be higher during weekends and holidays, regardless of what time you pick.
Friends Forever..
Having the last-minute friend sit elsewhere in the theater, away from the band, kind of pinched us a little. But not anymore!
These tips mentioned in the article will certainly help you get the most out of booking tickets for movies!
Do you have more movie ticket booking tips? Share them with us in the comments section below.
Author: Nik is an author with over 14 years of expertise in software and tech. Holding an Engineering degree in Information Technology and a Master's degree in Data Science from Liverpool University, he is adept at dissecting and discussing the nuances of technology with clarity and precision. Disclaimer: The content on this website is originally created by human authors and is refined using AI tools solely to ensure grammar, flow and clarity.