Are you looking for a convenient way to store or share files with others? You have landed on the right page!
Just do a quick Google, and you will find hundreds of file-sharing websites on the Internet.
Well, no denying, there are a few file-sharing websites that are decent enough. However, they usually have irking ads, trackers, and even complex captchas at times.
What if you had access to file sharing sites that offered direct download links to even free users? Sounds crazy? Well, it is! There are very such few websites on the Internet, and these are pure gold dust! Take a look at the list we made below.
Best File Sharing Websites Providing Direct Download Links
How We Tested? We primarily looked at how well you can share files, maximum file size, and bandwidth. Further, ease of use, reliability, and legitimacy of the file sharing website were also considered.
1. Gofile

Gofile is a free and unlimited file sharing website offering direct links to download files.

Fast servers with high bandwidth
Supports all file types
No file size limits at all

Inactive files get deleted very soon
Fast: Gofile file sharing service uses high-performance servers to store your files. These servers are very fast and come with high bandwidth. Besides, there are no restrictions on the upload or download speed. You will love it.
Anonymous and Privacy-focused: Gofile is an anonymous file-sharing site. It respects your privacy and hence does not store any user cookies nor has any trackers. It does not store your personal data, and there are no ads for now.
Supports All File Types: There are no restrictions that only certain types of files should be uploaded to Gofile. It supports all kinds of files like images, music, videos, documents, and more.
No Limits: Well, this is a dream of every file uploader or downloader. There are absolutely no limits on the file size and the number of files you can upload/download. Have a 10GB file to upload? Go ahead and upload it! Furthermore, Gofile needs no registration to start using the service. However, if you wish, you can use an email address to connect and have a detailed history of your uploads.
Secure: All your file transfers (both uploads and downloads) are encrypted. To achieve this, they make use of the TLS1.2+, SHA256, and RSA-4096. You also have the option to set up a password for your file along with the expiration date.
Inactive Files Deleted: Your files remain accessible indefinitely as long as they are regularly downloaded. However, files that are not accessed for 10 days and remain inactive can be deleted to free up the servers' space. An upload is considered inactive if different IPs do not regularly download it. NOTE: Once every few days, the direct download link will redirect the file downloader to the main download link. After that, the direct download link continues to work as usual without interruptions.
Donor Member: We have personally not seen such a good file sharing service providing direct download links. There are no annoying advertisements on the website, either. So, any donation you make towards the website is valuable to keep the service going. Also, if you wish to keep your files forever, you can become a donor member by subscribing to their monthly donations on Patreon. This way, your uploads will never be deleted, no matter if they are active or not.
To get the Direct Download Link:
Just start by uploading your file. After the upload completes, in the next window, copy the 'Download link.'
Next, paste the copied Download link in a new window and open it.
Here, right-click on the 'Download' and 'Copy link address.' This will be your direct download link to the uploaded file.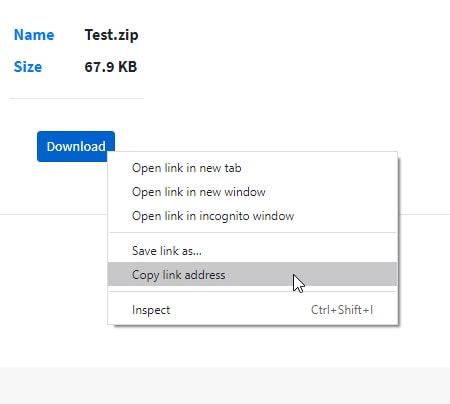 Visit Site
2. WordPress.com

You get a basic free file storage space of a few GBs with a free WordPress.com account and, it's very useful.

High-speed servers
User-friendly
Inactive files not deleted

Supports only selected file types
Free: Worpress.com is free. Most features are freely accessible. This is a huge advantage for anyone looking to store their file online and access them on the go.
High-Speed Servers: WordPress.com uses powerful servers to store data. Their servers are distributed across the world and deliver data at great speeds. WordPress.com has recently collaborated with Cloudflare, and this is even more good news in terms of speed.
No Throttling: Both your file upload and download are not voluntarily throttled by WordPress.com. You can upload/download at the maximum speed of your Internet connection without any fuss.
Inactive files Not Deleted: Your WordPress.com accounts are free for life as of today. All files you save in your account will have a long life and are not deleted for inactivity. This makes saving your files and WordPress absolutely irresistible.
Creating a WordPress.com Account: Begin by visiting WordPress.com. Here, click on 'Start your website' to proceed further. In the next window, fill in your details and create your account.
Next, you will have to type the domain name of your choice. Type in anything you like, but it must be unique. For example, we would use something like mypersonalfilestorage2022.
Next, carefully select the 'Free' version, which would look something like domain-name-of-your-choice.wordpress.com. In our example, it is mypersonalfilestorage2022.wordpress.com.
After the above step, the next window asks you to pick a plan that's right for you. Here, at the top center, click on 'Start with a free site.' Well, you now have a free WordPress.com site at your disposal.
Now, in the left-hand side menu, click on the 'WP Admin,' and it will take you to your website dashboard.
Using your WordPress.com Site to Store Files: With this site, you get 3GB of free file storage that you can make use of. All the files you upload to your website can now be directly linked with ease.
Start by clicking on the link below 'Storage Space' as seen in the screenshot below.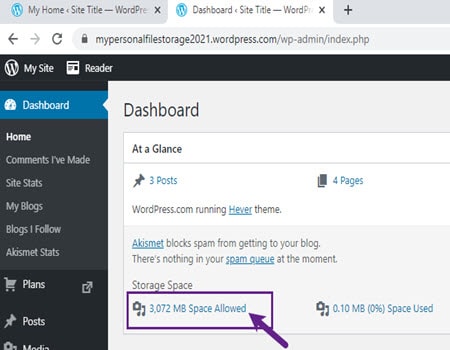 In the new window that opens up, click on the 'Add New' button that's next to Media Library and then click on the 'Select Files' button.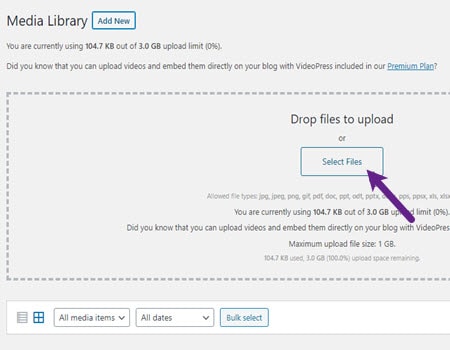 Now start uploading the files of your choice to your storage space. All the files you upload can be found in the Media section of your website.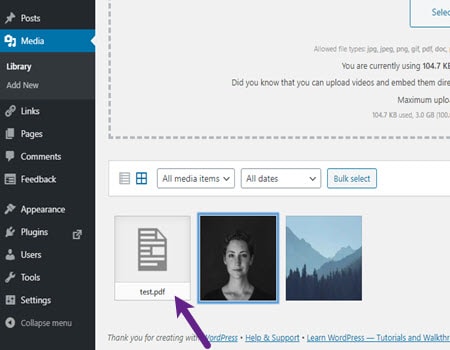 Click on the uploaded file and copy the direct download link to share with anyone.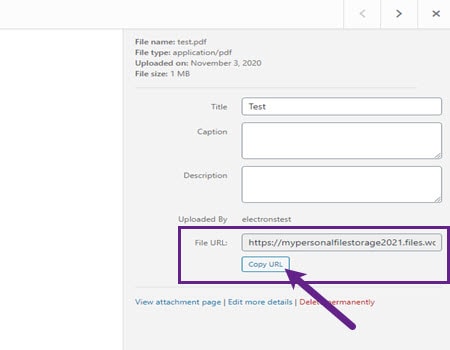 More Space: Once you exceed the 3GB space allocated to your websites, feel free to create a new website under the same WordPress.com account. This way, you will get an additional 3GB space. And you can repeat this cycle again.
Only Selective File Types: All good things do have a downside. Well, in the case of WordPress.com, it only allows selective file types to be uploaded to its servers. This is surely a disappointment, and we hope WordPress.com works with more file formats in the days to come.
Visit Site
3. FileTransfer

FileTransfer provides a convenient way to share files with friends via direct download links.

Easy to handle
Variety of file types
Resume broken upload/download

Easy to Handle: On FileTransfer.io, you can share files with friends without any need for registration. This way, none of your personal details are stored. However, registering with them will allow you to view the history of your files and more.
Supports Various File Types: The service allows you to share a variety of files with others. They can be photos, music, videos, documents, presentations, or any other files.
Resume Broken Upload/Download: Everybody knows the unpleasant feeling when the connection fails right in the middle of uploading a file. So, as soon as your device connects back to the Internet again, the upload/download will automatically continue from where it was left. You need to be registered to use this service.
Limits Exist: Well, there are a few service limits you should know. Each file can only be downloaded 50 times. The maximum file limit is 6 GB, and the expiry is 21 days. Interestingly, premium users have no such limitations. You can become a premium member too, just by paying a small fee.
Remove Unwanted Files: If you are a registered user of FileTransfer.io, you can quickly delete unwanted files on your My Account page. Unregistered users also get an option to delete their files after the upload completes.
To get the Direct Download Link:
Upload the file of your choice and copy the download link.
Next, paste the file link in a new window.
Here, right-click on the 'Download Data Package' and 'Copy link address.'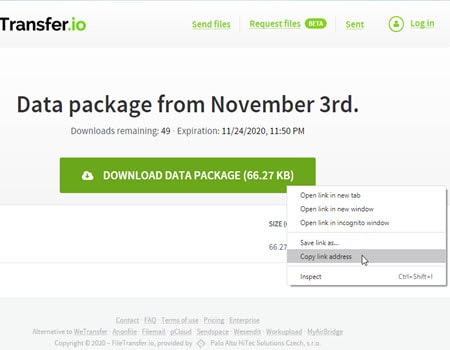 Visit Site
4. MailBigFile

It is another best free file sharing website in this category that you can make use of.

Excellent encryption
No registration
High bandwidth

Small file size
Quick expiry
Strong Encryption: The very moment you start uploading your file, the transfer happens with 128-bit SSL encryption. Once the files reach the server, they are stored there with 256-bit AES encryption. Again, the downloads happen with 128-bit secure encryption. This is military-grade safety that should make any security-conscious person pretty happy.
No Registration Required: The free version of MailBigFile requires no registration like other similar services listed above. You can immediately start using the service by uploading the file of your choice. Nonetheless, if you plan to use their paid services, you can register with them.
High Bandwidth: The MailBigFile servers are fast and offer high bandwidth. Your files get uploaded or downloaded at max speed as per your Internet connection.
Small File Size: The drawback of using MaiBigFile is the small 2GB file size limit. You cannot share files that are higher in size than the prescribed limit. On the better side, you can transfer all types of files. Just make sure they are legal.
Expiry: All files come with an expiry of a few days. Further, each file can only be downloaded a certain number of times. If you plan to use their pro and business version, you can overcome a lot of these constraints.
To get the Direct Download Link:
Start by clicking on 'I Agree' on the left-hand side of the screen. Next, click on 'My Device' and choose the file to be uploaded.
Further, enter your email and the recipient's email. You can also enter any message if you wish to.
After the file upload completes, copy the link, as seen in the screenshot below.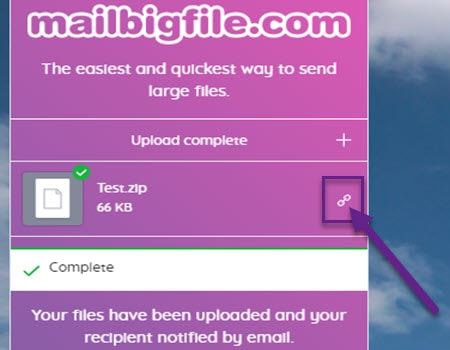 Paste the link in a new window. Right-click on the 'Download File' button and 'Copy link address.' That will be your direct download link to share files with others.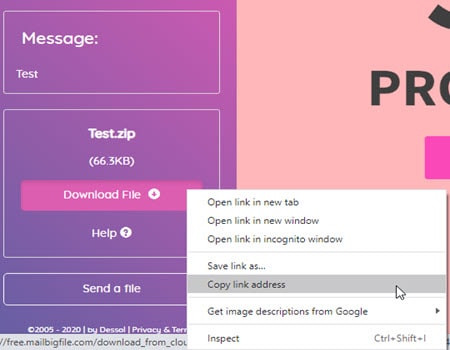 Visit Site
5. Workupload

Workupload as a service focuses on providing users with a simple solution to upload and share files with others.

Minimalistic
Rapid cloud servers
Secure

Max file limit and expiry
Minimalistic: The Workupload service is simple and straightforward. You just upload a file and get the link. You can easily drag and drop files or click on the 'Select files' button and choose files to be uploaded.
Privacy-safe: Workupload doesn't require you to register with them. This way, the service doesn't store any of your data and is privacy-safe. Besides, there are no annoying advertisements that interrupt the workflow while using the service. Your personal data are GDPR-compliant and protected according to current security standards.
Secure: All of your files are stored exclusively in German data centers in separately secured server racks. The files are safe and are accessible only to people who have the link to your file. Others without the link cannot access them. Additionally, you can also password-protect your files.
Rapid Cloud Servers: The cloud servers made used by Workupload to store your files have high bandwidth and are swift. This helps you upload or download files at the maximum speeds possible.
File Limits: Well, this is a sad thing. All files come with a specific time limit, and they expire even if they are actively downloaded. Further, the max file size limit is set at 2GB currently. However, you can upload an unlimited number of files to Workupload. Also, if you register with them, you can manage and delete your files.
To get the Direct Download Link:
Upload your files and then click on the 'Share now' button.
In the new window that would open, click on the 'Download' button.
Again, a new window opens up. Here right-click on the 'please click here' and 'Copy link address.'
The copied link will be your direct download link.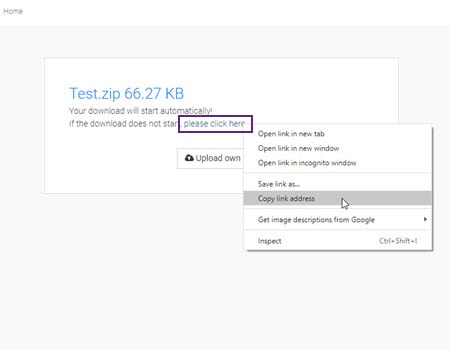 Visit Site
Share More…
So, these were some of the best file sharing sites that you can use to send files with direct links.
They remove the need for users to visit download pages and thus the inconveniences associated with them.
If you happen to know any other such sites, then do mention them down in the comments.
Author: Nik is an author with over 14 years of expertise in software and tech. Holding an Engineering degree in Information Technology and a Master's degree in Data Science from Liverpool University, he is adept at dissecting and discussing the nuances of technology with clarity and precision. Disclaimer: The content on this website is originally created by human authors and is refined using AI tools solely to ensure grammar, flow and clarity.